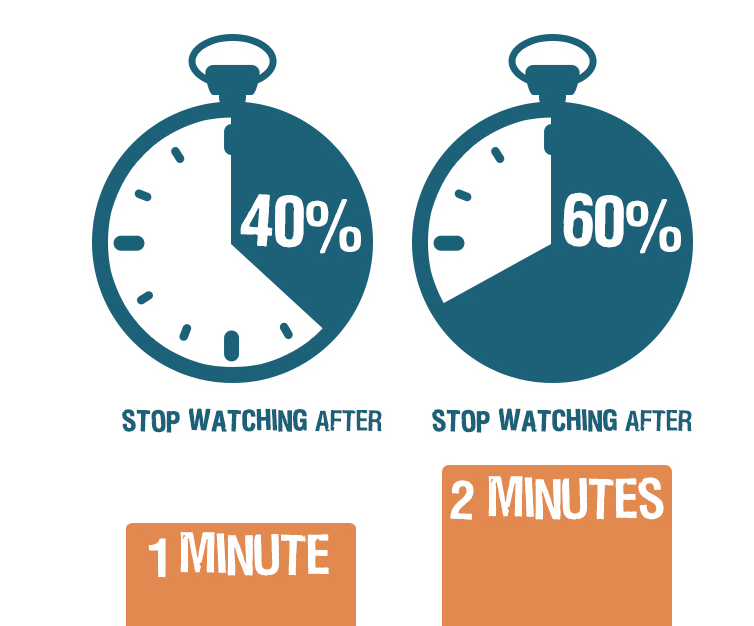 Marketing Animations - Where size does matter!!
It's the age old question, but when it comes to creating a marketing animation or viral animation then size really does matter!
We never fail to be surprised by the amount of times clients come to us asking for a short, punchy, engaging marketing animation of around 5 minutes! 5 MINUTES!!!! Wow!!  That is getting on for an episode of Pingu rather than an engaging marketing animation! If you really want to engage your audience with your message and your brand then less really is more.
Now, we do know that any animation or video can go viral regardless of length and that it's the content that counts. As an award winning animation company we pride ourselves on the quality of our productions, however we also know that as the stats from Visible Measures above show, by keeping your marketing animation short you increase the chances of it being shared through social media channels and more importantly - increase the possibility of your audience reaching the end.
So how then do you get from 5 minutes or more of content to 40 – 60 seconds? Well it 'aint easy, but here are 5 of our trusty tips:
1. Keep it visual –  when writing a 'script' or pulling together their Unique Selling Points most people write them down. Try and turn this around and think visually as a lot of the time a picture really does say a thousand words (well a good 20 or 30 at least!!)
2. Be honest about how much is needed – you may think that all the information is required in your animation, but does your audience really need to know the intricate technical details at this stage?
3. Try and explain it – you may want to get all 40 slides of your PowerPoint in but think how you would explain it to someone if you only had 1 minute.  By doing this you usually cut out most of the waffle and get straight to the juicy bits.
4. Think of the main goal – the main goal of any marketing animation is to get people tempted enough in your product or service that they buy or pick up the phone and call you.  For this you don't usually need to go into major detail about how things work – just that their life would be better off with what you have to offer.
5. Read it out loud - When written down your text may not seem that long and that all the technical information works. However when reading it out loud to someone you quickly find that a lot of the technical information upsets the flow and makes it difficult to read out, which will be the same for the voice over artist. To improve the flow of your animation the script should be easy to read out loud at a nice pace. To help with this see number 3 above.
These tips and many more have served us well over the years in creating engaging marketing animations for many of our clients. If you have an idea for a corporate animation or a marketing animation please pick up the phone and give us a call as we would love to talk through your ideas. As it shows below, by getting your message across to your audience in an enjoyable way can greatly improve your conversion chances.